154-lot subdivision receives approval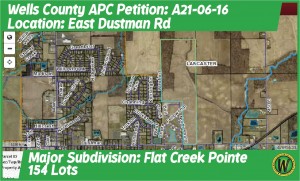 Members of the Wells County Area Plan Commission approved a new 154-lot subdivision on Bluffton's north side, pending approval of several modifications and waiver requests.
Flat Creek LLC will be on 100N and will connect to the Parlor City Estates subdivision, which was approved earlier this year. It will be constructed on the north side of Wells County 100N.
Property owner Jeff Shelton and Brett Miller of MLS Engineering presented the proposal to the APC. The subdivision will include a four-acre park, which will probably be included in the second of the three or four sections that will eventually be constructed.
The first section will include 29 lots. The second section will include lots 30 to 69.
There will eventually be six connection points for the subdivision's streets, with the primary one being off Dustman Road. The property will not need to be annexed, since it is already in the city.
The plans are to have street lights at the intersections and yard lights on individual lots. Sidewalks will be placed on both sides of the streets.
Miller indicated that he had been in "open communication" with city officials on the plans.
In all, there are 17 matters that came out of a meeting of the city's department heads. That brought a comment from Jerome Markley, the APC's president.
He has been on the APC a while, he said, and "I don't remember this many waiver requests." APC Executive Director Mike Lautzenheiser listed the proposed changes in his director's opinion, and Markley noted that 12 of the 17 items contained the word "waiver."
Lautzenheiser acknowledged what Markley was saying, and indicated that the waiver requests could bring about a review of the subdivision requirements.
When the meeting was opened for public comment, Bluffton Mayor John Whicker came to the table in front of the APC members. "I'm here to endorse this project on behalf of the city of Bluffton," he said, adding that "There are some issues to work out."
Dan Schafer, who lives in Bell Brook Estates, had some issues when the Parlor City Estates development was proposed earlier this year. This time, he commended all who have worked on Flat Creek for being responsive. "We just want to express our appreciation," he said.
The motion to approve included the 17 points contained in Lautzenheiser's director's report, and also included a request that a letter of agreement from a neighboring landowner be put on the record. That being the case, the vote was 9-0 to approve it with Markley, Harry Baumgartner Jr., Tyson Brooks, Jarrod Hahn, Bill Horan, Josh Hunt, Tim Rohr, John Schuhmacher, and Melissa Woolworth all voting to approve. (Two members, Cory Elzey and Becky Stone-Smith, were absent.)
The subdivision has been placed on the agenda for the Bluffton Common Council's June 22 meeting.
Story by Dave Shultz, Courtesy of the News-Banner