Students pitch business ideas; win scholarships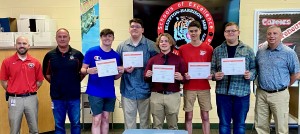 The good work by members of the entrepreneurship class at Bluffton High School netted them some scholarships from Indiana Institute of Technology.
The team of Elijah Cook, Jared Franklin, and Blake Moser qualified for scholarships of $1,500 each per person per school year — $6,000 total through four years — in a business plan contest. Jared Marcum, who entered the second-place project, has qualified for a $1,000 annual scholarship renewable for four years, and the duo of Corbin Stiles and Gavin Yergler qualified for a $500 annual scholarship at Indiana Tech, also renewable for four years.
Among the business plans developed were for medical prescriptions delivery, tool rental, and grocery delivery.
"In the opinion of the seven people who evaluated them, these were considered the most ready — with a few changes," said Karl Grau, the class's teacher.
The program was supposed to start at BHS last year, "but last year stalled everything" due to the COVID-19 pandemic, said Chad Kline, Wells County's economic development director, who provided assistance to the class. "About midway through the 2020-21 school year, they realized they could make it work."
The program is similar to Launch DeKalb, which is an entrepreneur pitch program held in DeKalb County, Kline said. Its goal is to give high school students a chance to pitch business ideas and win scholarships.
The students learned "the ability to hear the word 'no,'" Marcum said. Cook had something to add: "We had to learn to turn very fast on the fly, and try to turn that 'no' into a 'yes.'"
"Bluffton High School's Entrepreneurship students are an inspiring example of the future leaders of our community," said Bluffton-Harrison MSD Superintendent Brad Yates.
Serving as mentors to the class were Angie Topp, whose family just opened Toppings Ice Cream Parlor in downtown Bluffton; John Emshwiller of Emshwiller & Emshwiller and Trent Bucher from Honegger Ringger & Co, who advised on financial issues; Mike Vanover and Cassie Crickard of Clean Fuels, discussing business operations; and Audry Estill, manager of the Parlor City Market. Chris Straw of Team Quality Services in Auburn, who is involved in Launch DeKalb, also spoke to the class.
Story by Dave Shultz, Courtesy of the News-Banner