Code of Ethics Signing Illustrates Culture of Trust and Respect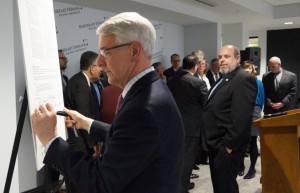 FORT WAYNE, Ind. – The Northeast Indiana Regional Partnership welcomed elected city and county officials and economic development professionals to a historic regional event—the signing of the Code of Ethics.
Business and government leaders from the region's 11 counties gathered in the newly renovated Regional Partnership office at 200 E. Main St., Suite 910, Fort Wayne, to sign the document that serves as public proclamation of the region's commitment to higher levels of performance and accountability through a culture of trust and respect.
"In Northeast Indiana, we're working at the speed of trust. We bring together the common interests of business, community and government leaders to promote Northeast Indiana as a single economic entity. As we confront the difficult decisions necessary to raise prosperity in our 11 counties, we have learned that a culture of trust-based relationships and collaboration is essential for making progress in our aggressive goals for regional growth," said President and CEO of the Northeast Indiana Regional Partnership John Sampson.
LEDO Council Chair and Executive Director at Wells County Economic Development Chad Kline said, "The Code of Ethics sets the standards for regional collaboration. As a founding document for the LEDO Council, the Code allows us to accelerate growth and progress for our region's counties and cities."
"The Code of Ethics is critical to establishing the way we work together in Northeast Indiana. The strength of our Mayors' and Commissioners' Caucus lies in the fact that we are willing to sit at the table and discuss issues that are relevant to all of us. The Caucus works together for the betterment of the entire region with accountability and responsibility to each other and our communities because of the trust and professionalism defined in the Code," said Co-Chair of the Mayors' and Commissioners' Caucus and Wabash Mayor Scott Long.
To read the Code of Ethics, visit the website at www.neindiana.com/codeofethics. Please visit this link to access photos from the event for publication. 
About the Northeast Indiana Regional Partnership
The Northeast Indiana Regional Partnership's mission is to build, market and sell Northeast Indiana to increase business investment. Founded in 2006, the public-private partnership strives to build a globally competitive region. The Partnership's Vision 2030 framework supports collaborative regional efforts to increase per capita income, population growth and educational attainment by focusing on business attraction, talent attraction and talent development. The Partnership represents 11 member counties: Adams, Allen, DeKalb, Huntington, Kosciusko, LaGrange, Noble, Steuben, Wabash, Wells and Whitley counties. For more information, visit www.neindiana.com.
 
###

MEDIA CONTACT:
Kate Virag
Vice President of Marketing & Strategic Communications
Northeast Indiana Regional Partnership
260.414.2431
kate@NEIndiana.com