Delegation from Adams and Wells Counties Tours Vincennes Campus
Friday, February 22, 2019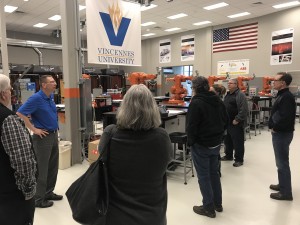 In the early hours on Monday February 11th, a charter bus filled with prominent community leaders rolled out of town on its 240 mile trek to Vincennes University in Southern Indiana.  Amongst those traveling with the group were city and county officials, influential business people, community based non-profit groups, and officials from multiple school districts.  The trip was organized by a few business leaders and community representatives that have been discussing turning an Adams County building into a Career Training center.
 "We have been in dialogue with Vincennes University for the last few months about offering workforce development and educational services to serve as a regional resource," explained James Teeple, Workforce Development Director for Adams County Economic Development.  "A consortium of regional leaders was invited to journey with us to Vincennes to confer with the university's president, Chuck Johnson and his administrative staff."
"The university provided a very insightful tour of both the Vincennes Campus as well as their Gene Haas Technical Education Center in Lebanon," Teeple continued. "They have reiterated their commitment to support the implementation of an educational service hub or career center in Decatur. The intent of the trip was to demonstrate potentiality of such services and resulting economic impact to the region. From that perspective it was a very worthwhile outing."
Chad Kline, director for Wells County Economic Development added, "A Vincennes training facility in Northeast Indiana has the ability to provide an additional training source to further benefit our workforce development efforts and support the training needs of our employers."
Local businesses are very supportive of the endeavor as it is important for their current needs as well as the longevity of their companies.  
"I believe this is something that the industry in our area must have to develop quality skilled labor," said Rex Reynolds, maintenance supervisor for 20/20 Custom Molded Plastics, who attended the trip.  "Without skilled labor and advanced training, we will go backwards."
Reynolds went on to say, "Vincennes has the ability to provide the specific training that our employers need. Their equipment and training are state of the art."
Decatur business owner Keith Gerber also shared his company's struggle and why this is important to businesses.  "Workforce Development for Hoosier Pattern is cultivating from within our Adams/Wells High Schools. This bus tour gave us a vision of what is within our grasp to create a community career center. It would allow us to skill up our present workforce, as well as develop an awareness and the skills needed for high school students for well-paying "no debt" careers. We currently struggle to find qualified employees amongst current potential applicants. A career center along with better marketing ideas to attract these students to take a look at what we have to offer is crucial for longevity for my business."
As the bus pulled back into town late that evening, Adams Wells Manufacturing Alliance's Director, Joe Elkins, summed it up best, "I was very impressed by the "Hands On" approach taken by Vincennes University.  The skills taught there can result in high-paying jobs that are sorely needed by Adams and Wells County manufacturers."