Brazilian company buys Bluffton Motor Works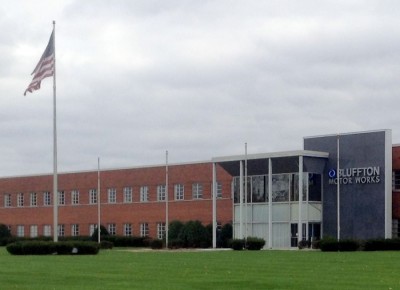 New ownership plans no operational changes
A Brazilian company has purchased Bluffton Motor Works LLC.
WEG S.A., a company based in Jaragua do Sul, Brazil, announced the acquisition of the Bluffton based company Monday. The company says no major changes will be forthcoming in BlMW's operation.
"Bluffton Motor Works will become part of one of the largest electric motor companies in the world," Luis Fernando Oliveira, a WEG spokesman, said in an email. "A large part of Bluffton Motor Works' attractiveness for us is its highly qualified workforce."
Oliveira says that David Nussear, the CEO of Bluffton Motor Works, will continue in that role. "His leadership team will have an important role in the development of WEG's growth strategy in North America," he said.
Phil Nussear, marketing director for Bluffton Motor Works, confirmed this morning that company officials made the announcement to employees Monday afternoon.
"At this point we do not anticipate any changes in how and what we do," he told The News-Banner. He characterized the new owners as "a big company with large horsepower motors that wanted to expand their presence in the smaller horsepower market."
WEG says it is one of the largest world manufacturers of electric and electronic equipment in five main segments — motors, energy, transmission and distribution, automation, and coatings. WEG has manufacturing units in 11 nations and services all industrial segments, including oil and gas, mining, infrastructure, steel, pulp and paper, renewable energy, and others. It employs 31,000 people and its net revenues in 2015 were 9.8 billion Brazilian reals (R$9.8 billion), which equates to $2.67 billion in U.S. dollars.
Bluffton Motor Works LLC, 410 E. Spring St., has a 400,000-square-foot building and employs more than 400 people.
WEG said it wanted to acquire Bluffton Motor Works because the company wants to expand its North American operations. Oliveira quotes Luis Alberto Tiefensee, the managing director of motors for WEG, as saying that BlMW is recognized for excellence in engineering, which is aligned with WEG's focus on the U.S. market.
"This acquisition is strategic to expand and to provide greater flexibility to WEG's capabilities in the world's largest market for fractional electric motors," Tiefensee said. "It also brings major product line expansion, which complements our current product portfolio for North America."
Originally founded as the Engineered Motor Products Division of Franklin Electric in 1944, Bluffton Motor Works LLC became a separate entity after its purchase by Capital Works LLC in December of 2006.

Article by Dave Schultz and Mark Miller, Courtesy of the News-Banner