Edge Manufacturing will move, expand operations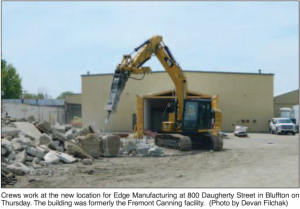 Bluffton-based Edge Manufacturing plans to expand and move their operations to 800 Daugherty St. in Bluffton following the recent purchase of the former Fremont Canning facility.
The company plans to invest more than $3.5 million for the purchase, real estate improvements and equipment in the 101,000 square foot facility on Bluffton's west side. The purchase expands the company's operations from the current 80,000 square foot facility on Adams Street.
Edge Manufacturing is moving from its current facility on Adams Street to help facilitate the attraction of a new business to Wells County. Additional details will be released at a later date.
Edge was founded in 1991 in a 5,000-square-foot barn in Adams County. Due to the growth of the company, it located to Bluffton in 2004.
The company will use more than 200,000 square feet within Wells County with the expansion. The company facilitates plastic container modifications for the logistics and warehousing industry.
"Edge Manufacturing modifies containers to work in production applications for the automotive industry and even modifies container lengths for full optimization for logistical purposes," says Eric Gerber, the company's president and CEO. "The expansion is necessary to accommodate opportunities for additional growth in the company."
Edge Manufacturing was recognized as the Wells County Chamber Business of the Year in 2015 and has been highlighted for the money management courses it makes available to its employees.
"Edge represents the epitome of good corporate citizenship," Bluffton Mayor Ted Ellis said. "The culture of integrity and genuine concern for their employees and customers is a model for all businesses."
Gerber likes Edge's relationship with Bluffton as well. "I have never worked with a community that has been so accommodating and appreciative to growth," he said.
Edge Manufacturing currently has 54 full-time employees. It plans to add an additional seven full-time employees and 15 part-time employees as a result of the building acquisition.
"Edge Manufacturing continues to be the leading example of how a business works to develop positive opportunities within the community," said Chad Kline, executive director for Wells County Economic Development. "Bluffton continues to provide the tools necessary to make it easy for businesses to succeed and grow in Wells County."
Bluffton-based Briner Building has been contracted to assist with the expansion of the building.