Haldrup gets into the field
Wells County farmer Doug Klefeker watched Friday afternoon, as a test plot combine cut smoothly through a row of beans on his property on 900S.
The European machine was sporting a prototype row crop header produced locally, and officials from manufacturer Haldrup USA had recently contacted him about testing out the assemblage on Klefeker's farm.
He agreed.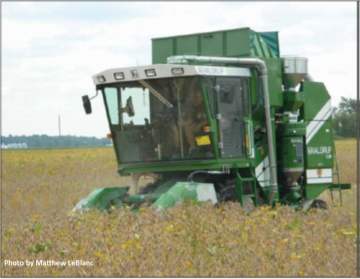 "I think it's exciting, really," Klefeker said.
Often, he said, test plots are harvested with smaller, aging combines — some dating to the 1970s. Friday, he got a chance to see a brand new, state-of-the-art machine in his field.
The header was made at a temporary facility operated by Haldrup USA, the American arm of Germany-based Haldrup. The company late last year announced a move to Ossian and is constructing a 24,000-square-foot, $13 million plant there.

The part is one of the first items the company has made in northeast Indiana, and company officials said yesterday they were excited to begin providing equipment and information to farmers in the United States.
Tamra Boucher, Haldrup's managing director, said the company hopes to establish a market presence within three years.
"It's exciting," she said. "Haldrup products are proven throughout the world but haven't been used much in the U.S."
Haldrup was founded in 1972 and designs custom field research equipment.
The test plot combines, which are not yet produced in the U.S., will be used to test grain for things like moisture values and test weight.
"I think there's going to be a big market for these," Klefeker said Friday, referring to the combine.
Haldrup had been scheduled to begin operations this month, but wet, rainy weather in June and July has pushed back construction at the Ossian site. So far, the company has hired six employees.
Eventually, company officials have said, 65 employees will work there by 2017.
Boucher said there is no specific timeline for when the plant will be up and running.
"We're getting much closer to moving into the facility," she said. "We're in the homestretch."
Tim Ehlerding, Wells County economic development director, said the future is bright for Haldrup.
"It's always great to see the plans taking shape, such as product rollouts, etc.," he said in an e-mail. "To see Wells County products (soon to be) shipped throughout North America is exciting at any level."
Article by Matthew LeBlanc, Courtesy of the News-Banner