Northeast Indiana Regional Development Authority Submits Regional Economic Plan for READI Program
Thursday, September 30, 2021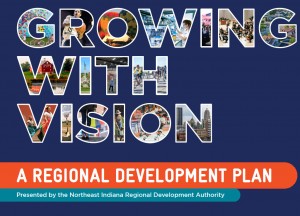 FORT WAYNE, Ind. –The Northeast Indiana Regional Development Authority (RDA) submitted Northeast Indiana's regional development plan (RDP) as the 11-county area vies for up to $50 million in funding through Indiana's Regional Economic Acceleration and Development Initiative (READI) program.  
The plan, titled "Growing with Vision," showcases Northeast Indiana's strong economic transformation in the last decade thanks in part to opportunities such as the Regional Cities Initiative. Citing regional focus groups, data and research, the plan explores the significant opportunities ahead for the region, which would be catalyzed and accelerated if the region receives READI funding.   
The Northeast Indiana RDA and Local Economic Development Organizations (LEDOS), which serve as the READI steering committee, received over 130 applications. Across the region, the READI funding request totaled $439,513,646.88. Most projects submitted through the proposal process were included in the final RDP.  
Northeast Indiana RDA Board President Gene Donaghy said the RDP reflects the region's top three focus areas for economic impact: workforce growth, downtown vibrancy, and entrepreneurship and innovation.
"The RDA board witnessed first-hand the positive economic impact Regional Cities funding had in our 11-county region. We are here to build on that, and the Growing with Vision plan is the first step in that process. Northeast Indiana is prepared to put this shared vision into place and accelerate our region's growth together," said Donaghy. 
Through the projects and programs identified in the Growing with Vision plan, the region will strengthen its competitive position by investing in talent, creating quality places and supporting innovation and business formation.  
WORKFORCE GROWTH - Growing the region's population to one million residents, even if Northeast Indiana maintains the current age structure and educational attainment levels, would have a positive impact on the region's economy. However, for greatest impact, Northeast Indiana would need to grow the share of younger, more educated talent. This includes upskilling current talent as the economy evolves and creating a nimble, responsive educational environment.  
DOWNTOWN VIBRANCY - Investing in quality of place improvements, like creating vibrant downtowns, with unique housing options, thriving food scenes, and robust arts and culture offerings will make the region more attractive to potential residents, including young professionals. Through these investments Northeast Indiana will reap returns in a strengthened economy and more vital community.  
ENTREPRENEURSHIP AND INNOVATION - Northeast Indiana has embraced entrepreneurship and innovation as a means of promoting economic diversification and stimulating growth. Creating conditions that support new business formation and innovation within Northeast Indiana's existing companies will drive regional success.  
Together, these three strategies will guide the investment of READI funding, said Donaghy. 
New Haven Mayor Steve McMichael, who currently serves as president of the Mayors and Commissioners Caucus of Northeast Indiana, said the Caucus supports and endorses all three areas of this plan.  
"The goals outlined in this plan focus on workforce growth, downtown vibrancy and innovation. These are key areas that will help all 11 counties in the Northeast Indiana region grow and increase the capacity in our communities," said McMichael. "As elected officials, we understand the importance of working collaboratively to ensure the growth of this region. We intend to bring local units of government together to support the execution of the Growing with Vision plan." 
"The Growing with Vision plan represents another exciting step forward for Fort Wayne and Northeast Indiana. It's designed to address challenges faced by nearly every employer, and I expect the private sector to step up in a big, big way to bring this plan to life," said David Findlay, president and CEO of Lake City Bank and Regional Partnership board member. 
All project and program proposals are confidential and considered preliminary until finalized and presented to the RDA board.  If a project or program proposal is included in the regional plan, that does not ensure READI program funding. If a project or program proposal is not included in the plan, that does not prevent the project or program from receiving READI program funding. 
The Indiana Economic Development Corporation (IEDC) expects to invest $500 million to be matched by the private sector and local community, a minimum 4:1 regional match. This includes a required 1:1 match from local public funding and a recommended 3:1 match from private and philanthropic sources. 
Next steps include: 
October-November 2021 – The IEDC board of directors will form a READI review committee to evaluate regional development plans. Each region will have the opportunity to present its vision, goals and strategies that will positively impact the area's quality of place and quality of life, innovation, entrepreneurship, and talent attraction and development. The committee will establish criteria to evaluate the plans and will host a series of review meetings that will be open to the public. 
December 2021 – The review committee will make funding recommendations to the IEDC board of directors. Once approved, the IEDC will award READI funding to selected regions to advance implementation of the projects and programs designed to catalyze economic growth and talent development in Indiana. 
To learn more, visit the website at www.neindiana.com/rda or www.neindiana.com/growingwithvision.

About the Northeast Indiana Regional Development Authority
The Northeast Indiana Regional Development Authority (RDA), currently the largest RDA in the state, consists of Adams, Allen, DeKalb, Huntington, Kosciusko, LaGrange, Noble, Steuben, Wabash, Wells and Whitley counties. The RDA is overseen by a five-member board, each appointed by consent of the executives of the member counties and municipalities, and receives staffing support from the Northeast Indiana Regional Partnership. For more information, visit www.neindiana.com/rda.
###

MEDIA CONTACT:
Jaclyn Goldsborough
Director of Digital Marketing and Public Relations
Northeast Indiana Regional Partnership
574.596.0818
jaclyn@NEIndiana.com