Ossian Smoked Meats named town's Business of the Year
Tuesday, September 19, 2017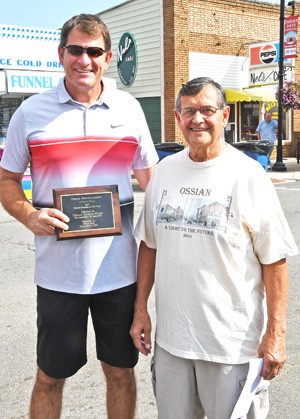 Belief in and love for Ossian by one longtime business owner was returned in kind Saturday, as Ossian Smoked Meats was named the Ossian Revitalization Business of the Year.
Business president Peter Sorg accepted the award plaque to a healthy round of applause from a crowd at the main stage prior to Saturday's parade at Ossian Days.
A grateful Sorg returned the praise to the Revitalization Committee. "They do a tremendous job. The downtown looks so much better than what it used to and it's all because of them," said Sorg
The business was chosen by the Revitalization Committee for its quick bounce-back following a devastating fire that destroyed the company's smoke house. Not only did the business fully recover from the fire with construction of a new smokehouse, but it has increased employment since the fire, said Revitalization Committee member Larry Heckber, who presented the plaque to Sorg.
Ossian Smoked Meats provides Ossian Revitalization with the meat for its fundraising pork chop dinner during Ossian Days.
"It has been a joy to work with them. The dinner has really grown. It makes me proud and it's fun because so many of the people involved are people whom I have known my whole life. I'm really happy to see the progress they've made with the town," Sorg said.
Article by Glen Werling, Courtesy of the News-Banner