Berne Apparel in Ossian receives patent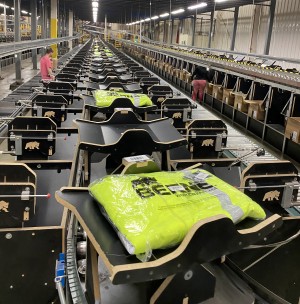 OSSIAN, IND.: Berne® Apparel Company, makers of quality workwear since 1915, has received a design patent for the apparatus that sorts its products for shipping.
After an extensive application process, Berne was awarded U.S. Patent No. 10,974,913 B1 for its Tilting Tray Products Sorting Apparatus. 
The apparatus is an innovative method for sorting products as they are packed for shipment. The patent language states, "products are sorted by loading the products onto tilting tray carriages which traverse to one of a plurality of desired stations and then unload the products by tilting the carriage tray."
Or as Berne director of operations Brian Randol describes it, "We have three circular loops with 200 trays per loop, which means we have the ability to fulfill 600 orders at one time." Garments are loaded onto trays, which travel around the loop. Box stations are positioned around the outside of the loop. Scanners read product IDs, and when they reach the correct station, a piston shoots out to tip the tray, dumping the garment into the box.
"In the world of real-time ordering and just-in-time delivery, this system gives us a competitive advantage because of its amazing ability to customize orders. We can meet each customer's specific needs in an efficient manner -- not simply send full-case packs to each and every customer," said Randol.
Company president John Nussbaum, who invented the apparatus, said, "At Berne, we've always taken pride in our ability to serve our customers by shipping products with speed and accuracy. The way people shop has changed and will continue to change. To meet increasing customer expectations, we began prototyping our new tilting-tray distribution system in 2017. It took years to perfect. Now complete, this new, patented system allows us to deliver best-in-class service to our expanding customer base. We consider this system to be a significant strategic advantage. "
Since 1915, Berne Apparel has focused on supplying hard-working Americans with the workwear they demand -- workwear that is made right, made to work and made affordable.
For more information, please visit www.bernedirect.com.