Wells County Planning Oks room for 46 more homes in city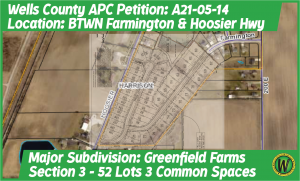 Construction of a 46-lot major subdivision on Bluffton's south side was approved Thursday night by the Wells County Area Plan Commission.
Civic leaders have been pushing for additional housing in Bluffton and Wells County, and the APC has recently been presented with petitions for apartment complexes and housing subdivisions — with more to come.
Thursday night's presentation by Biggs Inc. was well received, being approved on a 10-0 vote.
The new residences — about evenly divided between single-family homes and villas — will be constructed between Clark Avenue/Hoosier Highway and Wells County Road 200E. The name given to the development on the petition before the APC Thursday night was Greenfield Farms Section 3.
Drainage was the difficult problem for the development, requiring cooperation between the city and county plus the developer, the Wells County Drainage Board, and the APC to get the plans to come together.
"The subdivision has been through two or three versions of reviews, going back and forth on the layout," said Kevin McDirmitt, an engineer with Lougheed and Associates. McDirmitt presented the development plan to the APC for its approval Thursday night.
McDirmitt said plans for what will be a 13.433-acre development date back to the late 1990s. They were brought anew to the APC last fall.
Wells County Surveyor Jarrod Hahn said that fixing the drainage in the area "is one of the smoothest projects we've had." Doug Sundling, Bluffton's consultant for infrastructure and planning, said the work done "helps solve the longstanding problems out there."
Bluffton Mayor John Whicker participated in the public comment section of Thursday night's meeting, expressing the city's support for what he called a "much-needed project."
Sundling also expressed his support for the plans, but he did note a minor change had to be made. One of the proposed streets in the subdivision is identified as "Abbey Lane," and that name is already taken by a street in the Villa North subdivision. 
In response to a question, McDirmitt said the prices for the residences would range between $175,000 and $250,000. 
All 10 APC members present — Harry Baumgartner Jr., Cory Elzey, Hahn, Bill Horan, Josh Hunt, Jerome Markley, Tim Rohr, John Schuhmacher, Becky Stone-Smith, and Melissa Woodworth — voted in favor of allowing the subdivision to proceed. Schuhmacher and Woodworth attended virtually. Tyson Brooks was absent.
Modifications approved concerned the length and width of blocks, the replacement of streetlight requirements with property owner convenants to operate lighting from dusk to dawn, and that stubbed streets did not have to be paved.
Michael Lautzenheiser Jr., executive director of the APC, noted that another housing development will come before the commission at its June 3 meeting — Flat Creek Pointe, which is planned for space east of Bellbrook on Dustman Road.
Story by Dave Shultz, Courtesy of the News-Banner