Custom Plastics Molder Expanding in Wells County, Adding 100+ Jobs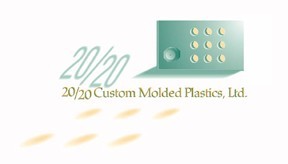 BLUFFTON, Ind. (May 20, 2021) – 20/20 Custom Molded Plastics LLC, a custom injection molder of high- and low-pressure plastics products, announced plans today to expand its northeast Indiana operations, creating up to 125 new jobs by the end of 2022.
"Indiana's advanced manufacturing workforce will continue to be a key asset for this growing company," said Governor Eric J. Holcomb. "Their commitment to Indiana is a testament to our business-friendly environment, and we look forward to supporting them as they grow their manufacturing operations and create more quality career opportunities for Hoosiers."
20/20, which is headquartered in Ohio, will invest $12.8 million to renovate and equip a 325,000-square-foot manufacturing facility at 785 Decker Drive in Bluffton with three 1,500-ton structural foam presses and seven 375- and 500-ton high-pressure presses. This expansion will enable the company to accommodate an increased demand from existing customers and take on new projects.



Today's announcement comes four years after 20/20 Custom Molded Plastics announced plans to establish new operations in Bluffton, investing more than $27 million and creating up to 155 jobs by the end of 2020. In 2018, the company revised its original hiring goal to 200 to support its rapid growth.
"These changes will undoubtedly bring new opportunities for our customers in terms of their own needs, product development and manufacturing flexibility," said 20/20 Executive Vice President Chad Adams. "We highly anticipate watching our teams at both locations grow. Our employees are a huge part of 20/20's success, and we are forever in debt to them."
20/20, which has already hired six toward its new goal, employs 206 associates in Indiana and 237 in Ohio. The company is hiring in Bluffton for press operators, supervisors and assistant supervisors. Interested applicants may apply online.
Founded in 2000, 20/20 Custom Molded Plastics manufactures structural foam products, which are lighter than traditional materials while still maintaining structural integrity. Using the injection molding process, the company produces products such as pallets, carts, in-ground enclosures, pool panels, floating dock systems, burial vaults and window wells for companies in the logistics, home and garden, consumer products, construction and leisure industries.
 
"The city of Bluffton is pleased to partner with 20/20 Custom Molded Plastics in their expansion plans," said Bluffton Mayor John Whicker. "This investment in our community is deeply appreciated."
The Indiana Economic Development Corporation (IEDC) offered 20/20 Custom Molded Plastics LLC up to $625,000 in conditional tax credits based on the company's job creation plans. The IEDC also offered up to $200,000 from the Hoosier Business Investment (HBI) tax credit program based on the company's planned capital investment in Indiana. These tax credits are performance-based, meaning the company is eligible to claim incentives once Hoosiers are hired and investments are made. The city of Bluffton will consider additional incentives.
Indiana is a leader in manufacturing, with 8,500 manufacturing facilities and the highest concentration of manufacturing jobs in the nation. Training initiatives like Next Level Jobs include a powerful advanced manufacturing track dedicated to automation and robotics technology. As a result, Indiana boasts a deep, highly skilled workforce, with 20% of Hoosiers working in advanced manufacturing — well above the national average.
About 20/20 Custom Molded Plastics
At 20/20 Custom Molded Plastics, our mission is to exceed our customer's expectations. We consistently do this by assisting with part and mold design and by working with some of the best toolmakers in the industry. We can help you avoid design and production problems because of the expertise that we have developed in the custom structural foam molding industry. For more information, visit 2020cmp.com.
About IEDC
The Indiana Economic Development Corporation (IEDC) leads the state of Indiana's economic development efforts, helping businesses launch, grow and locate in the state. Governed by a 15-member board chaired by Governor Eric J. Holcomb, the IEDC manages many initiatives, including performance-based tax credits, workforce training grants, innovation and entrepreneurship resources, public infrastructure assistance, and talent attraction and retention efforts. For more information about the IEDC, visit iedc.in.gov.  
 
Media Contacts: 

Chad Adams (20/20 Custom Molded Plastics) – 419.485.2020 or cadams@2020cmp.com
Erin Sweitzer (IEDC) – 317.296.2556 or esweitzer@iedc.in.gov