Inteva readies its new facility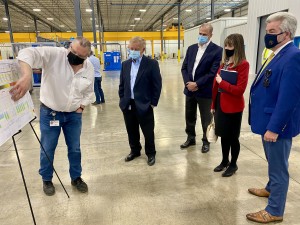 Local and state officials visited Inteva Products last week as the company prepares to open its Bluffton plant.
Inteva Products plant manager Mark Ellerbrock provided details of the plant layout of the new Bluffton facility at 1805 Lancaster St. during a visit by Lon Offenbacher, current CEO; Gerard Roose, incoming CEO; Linda Walczak, Northeast Indiana director for the Indiana Economic Development Corporation; and Jim Staton, interim Indiana Secretary of Commerce.
Mayor John Whicker, Economic Development Director Chad Kline, Chamber of Commerce Director Erin Prible, and building owner Rob Troxel of Midland LLC, were also present for a tour as new machines continue to be installed in the new facility.
Inteva Products has numerous positions to fill as they continue to ramp up operations at the facility, according to information provided by Kline. Apply by visiting: www.intevaproducts.com/careers/