Wells County awarded more than $5 Million for Infrastructure Improvements
Wednesday, February 24, 2021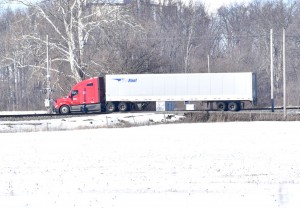 A 2026 federal grant will fund the reconstruction of 200S from Adams Street to about a quarter mile east of Clark Avenue, including the creation of a bridge that will take the county road over its railroad crossing.
Wells County was awarded more than $5 million for two projects, with the total work  including the local match costing about $8.7 million.
More than $3.5 million will go to the joint Wells County-City of Bluffton project on 200S. According to a press release provided by Wells County Economic Development Director Chad Kline, more funding will be sought in the future to reconstruct the remaining portion of 200S to Ind. 1 as a multi-phase project.
"This project is just the beginning of projects that could benefit both the city and Wells County," Mayor John Whicker said in the prepared statement.
The remaining $1.54 million in grant funds will allow for the replacement of a bridge on 200W over the Rock Creek.
"Wells County continues to focus efforts on improving infrastructure that will better position the county for growth," Wells County Commissioner President Blake Gerber said in the prepared statement. "Additionally, improving the safety of aging structures is important to maintaining quality roadways throughout the county. County Engineer Nate Rumschlag continues to be instrumental in allowing Wells County to capitalize on grant funding that decreases the needs of local funding to make these improvements."
Rumschlag described a joint funding agreement reached last year between the city, county and the Bluffton Redevelopment Commission as rare. Officials say reconstructing 200S would have long-term impact on the community's industrial growth.
"It's going to be a nightmare of a project, we know it is," Rumschlag said in an interview late last year. "But it's too important of a corridor for Bluffton to leave in its current condition."
The Indiana Department of Transportation announced this week that $100.8 million in federal funding was awarded to 54 rural communities. The full list is available online at: bit.ly/3qLCQic 
"For this latest round of funding, rural communities will design, develop and purchase land for projects that would be bid during the fiscal year beginning July 2025," the release said. "While the funds awarded now are dedicated to construction, INDOT will be financially participating in design, engineering, and right of way acquisition components of these projects."
Communities are required to pay at least 20 percent in local matching funds.
"Local transportation improvements are critical to growing and enhancing Indiana's communities," INDOT Commissioner Joe McGuinness said in the release. "Our sustained commitment to modernizing local roads and bridges, adding sidewalks, and growing our trail networks sends a clear message that we're building cities, towns and counties that are primed to attract and retain talent and spur job growth in the 21st century economy."
Story by Jessica Bricker, Courtesy of the News-Banner